Shedding Light on Window Treatments
Today, the term "window treatment" refers to anything that covers a window. There are many types of window treatments but privacy window film is the most modern and versatile. Boasting the least hardware and maintenance and the most continuous sunlight, privacy window film is the favorite choice for many savvy homeowners. But centuries past have given us 4 other important window covering categories: blinds, shades, draperies and shutters, all of which are worthy companions to window film…
Blinds typically are made of aluminum, wood or simulated wood (faux), composite and fabric. Often, they are referred to as venetians, brought to Europe via Venice sometime in the early 1700's.  Blinds can be horizontal or vertical.  Horizontal blinds have two sets of controls; a wand or cords that allow the user to tilt the slats for light control and cords to lift and lower the blind.  Blinds are best installed inside the window, and allow the full gamut from full light to total darkening.   
A shade, by any other name, is still a shade.  When shopping, you may find Honeycombs and Pleated, Roller and Roman.  Shades are generally made from your choice of fabric. 
Romans are the most versatile; in addition to cloth, grasses, bamboo, reeds, etc. can be woven to form a natural "fabric."  They can be very streamlined or amazingly ornamental – tassels, trim, beading and more.  For extra privacy, light control and a sense of luxuriance, Romans can be lined.  They operate by means of a cord that raises and lowers the shade.   
Pleated and cellular shades are similar in that they are made from bonded fabrics that are stiffened and bonded together to form pleats or honeycomb style cells.  Pleated shades are usually made of one fabric and the operating cords can be viewed running through the pleats.  Cellular shades are made by bonding two or three fabrics and pleated together.  This creates an effective barrier between the window and the room and helps to prevent temperature transference. The cord controls on these shades are usually hidden in between the fabric and are not seen. A single control handles raising and lowering. 
Roller shades date back to the 1700s where, in Scotland, the fabric of choice was light linen.  Spring rollers were introduced in the United States in the 1800's and originally manufactured in New York.  Most of today's roller shades operate by a hollow tube with a coiled spring inside, hence the name "spring roller shade".  They are controlled by pulling and reeling in; the fabric rolls up onto the rod.  Sleek, modern and offering a variety of fabric choices, roller shades can also be mounted on an aluminum tube that can be affixed with a clutch and looped cord or chain that offers ease of operation and control by continual loop.
source: This Old House
Used by the Romans to manage the dust that was continually kicked up by horse, chariot and foot traffic entering their homes, Draperies have been used in doorways, window openings, around beds and as room partitions.  A functional embellishment, they furnish privacy, light control, temperature control and beauty.  Thousands of fabrics and hundreds of styles make drapes the most versatile window treatment.  Draperies differ from blinds or shades in that they move side to side rather than up and down.   Suspended from rods, they can move (traverse) or remain stationary.   Drapes can be simple or ornate, lined or unlined.  What worked for the Romans continues to work well in modern times. 
Shutters are typically installed as a "fixed" window covering.  Most are left closed; only the louvers (slats) move to control light.  The louvers can be tilted by use of a tilt rod mounted to the front, the side or the back of the louvers.  Shutters were historically crafted from painted or stained wood; today you can find vinyl or composite in a variety of colors.  A good rule of thumb when choosing shutters – large windows usually look better with larger louvers and, conversely, small windows are best with smaller louvers.  Shutters are considered a home improvement and can add value to your home.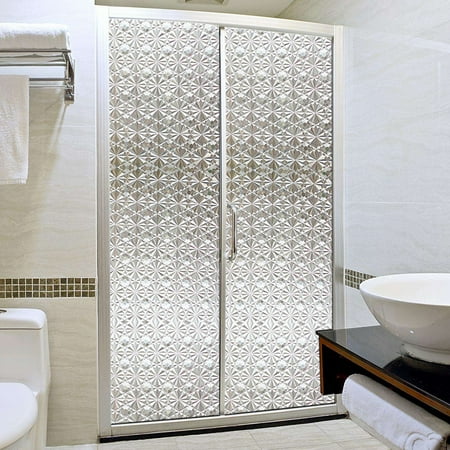 Source: Walmart.com
Window treatments continue to evolve with new materials and trendy options that include:
Eco-friendly materials

Sliding layer fabric panels

Cordless top-down bottom-up cellular shades

Programmable/Motorized blinds and shades

Multi-color and texturized Window film

And more!
Window treatments are an essential part of a room's decor.  Whether you're looking for something elegant and flowing or functional and easy, fresh window coverings can breathe new life into your home. Though innovative and exciting, many of the types of window treatments you see today have been in use for centuries.  Use them to support your room design through style, color and pattern. Don't be afraid to be bold and combine your options—window film can be used as a companion to any existing window covering!