1-way Window Privacy Film, Day vs Night Privacy, and Up-Close Gazing Explained
Behind the Looking Glass: Window Privacy Film Revealed
What if a one-way privacy window film could work magically, like the one-way windows used in criminal line ups? Hundreds of times we've seen these large picture windows in interview rooms where victims identify criminals in line-ups safe with the knowledge they will never be seen by the perps… The notion that we could enjoy full views of what lies on the other side of a window while no one catches sight of us in our own homes is a lovely thought, and a tall order…
However, a one-way privacy window film that provides a 24-hour combo of secure privacy and unobstructed views is as fictional as the cops and crimes in a Thriller. The principles of science that govern one-way glass in an interior police station simply do not translate to protective window film because interior windows do not contend with natural sunlight and the darkness of night. Privacy window film is the ideal way to create a private atmosphere in your home, but be careful which type of privacy film you choose as one-way privacy film only works during the daylight hours. 
One-way privacy window film is a clear, reflective window privacy film manufactured with a very thin layer of metal sandwiched between an adhesive layer and a protective layer. When one-way window film is applied to an exterior window, a mirror effect occurs when sunlight reflects off the window. This creates a 'blinding' privacy shield that blocks everyone's view from the outside in, while in no way encumbering your view through the clear film to the outside.

To maintain privacy when using one-way privacy film, internal light levels must always be less than external light levels whether it's day or night. After the sun goes down the main light source comes from the home's interior and all reflective factors are reversed and, most importantly, everyone can now see inside your house.
So if you live in a heavily shaded property that subdues your daytime sunlight stream, or if nighttime privacy is a priority then one-way privacy film, otherwise known as daylight privacy film, is probably not for you. The truth is that window privacy film should provide full-proof security that prevents anyone from being able to see into your home day or night.Privacy through reflection is a great concept for daylight hours, but at night one-way privacy film loses its superpower unless all lights, including the glow of a tv or computer, are kept dimmer than the starlight outside.
So what is the most effective window privacy film? Decorative window film and home window tinting with a translucent (not transparent) finish are the only solutions for fully blocking views inside at all times. Simply put, more privacy means less visibility. The good news is these films can be quite beautiful and do not decrease sunlight or fall into the vast category of unattractive, cumbersome window covering solutions. Decorative window films are unobtrusive, hard-ware free, and come in an infinite number of colors and styles. They will add a fresh new look to your home or office without sacrificing natural light.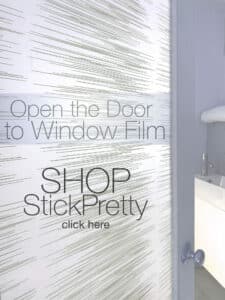 A Partial Reveal with Window Privacy Film
And before you get too disappointed that you'll be losing your full view to the outside, keep in mind that an entire window does not have to be covered to provide the privacy you need. If you have tall windows there's no need to block views above your family's head height. Enjoy those sight lines to the sky!
Even lower placed kitchen windows do not require full coverage. If maintaining views of your well-kept yard by leaving a portion of your window 'naked' from window film means the neighbor will glimpse a bit of your head as you do the dishes or prepare dinner, who cares? A kitchen, and most rooms of the house, do not require absolute privacy. The only room where coverage—day and night—is nonnegotiable, and where decorative window film is hands down the best solution is in the bathroom. Make sure you cover up!
Up Close Gets Personal
A final thought to keep in mind as you choose a window film… No matter what type of window film you choose anything placed within 6-8" of a window will, at the very least, cast a murky shadow or a broad outline that can be seen by an outside onlooker. For nearly any and all home installations, this slight reveal is not an issue. Again, it is only in a bathroom where you want to be sure you will not be sidling up to a window in your birthday suit at night with the lights wide open. Even decorative window films have their limitations.