Window Privacy Film: Everything you Need to Know in 5 Easy Answers
What is Window Privacy Film?
In a word it's a SOLUTION: If you're looking for privacy in its simplest, most cost effective form it's your easy answer. It shuts out neighbors, passersby, or unsightly views with ease and style but you never lose natural sunlight. By applying a single frosted sheet you'll enjoy every advantage of a home that is truly protected from the eyes of others without losing a bit of the light.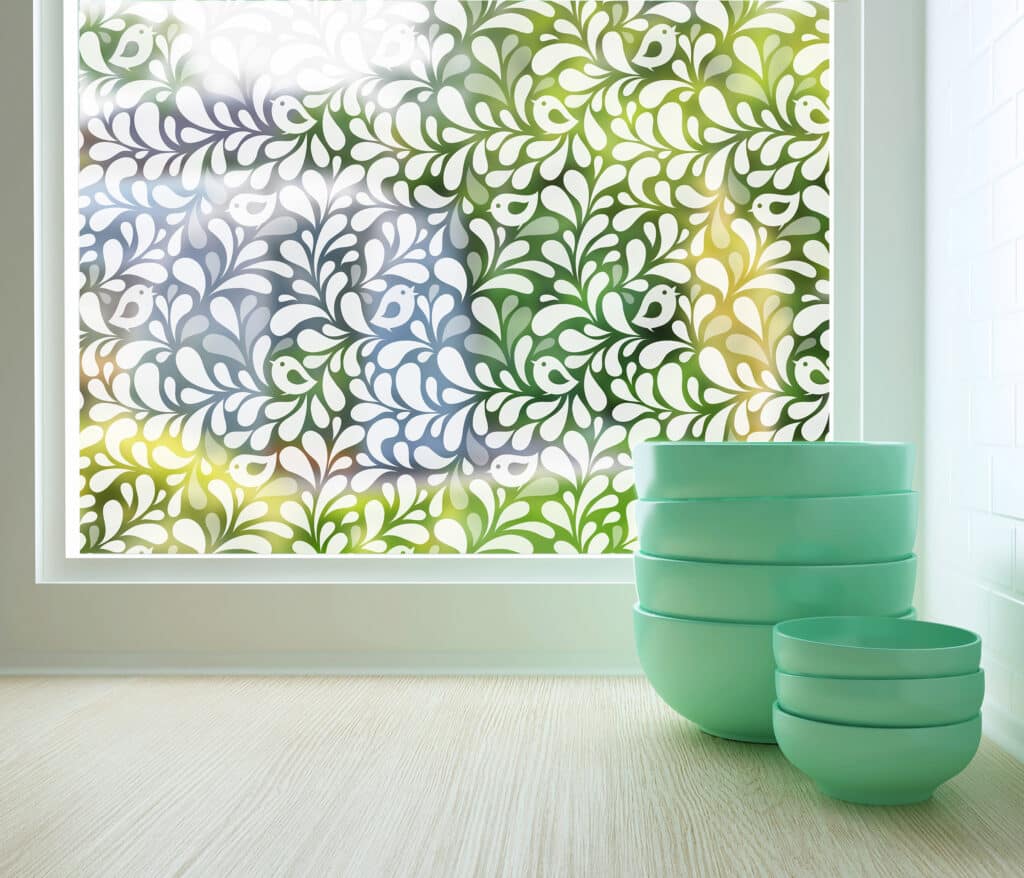 This is not your mother's contact paper!
In the practical sense, window privacy film is a thin piece of translucent material that attaches to your window with a pre-pasted adhesive or a cling technology that creates a long-lasting, glue-free attachment. The film is purchased with a paper backing that, once removed, reveals the film's 'active' surface that can easily be applied to your window. After installation it should stick to a window in any indoor environment, including a moisture-rich bathroom.
The best brands, such as StickPretty are impervious to humidity, steam, and water contact so be sure that what you buy is clearly marked as WATERPROOF. You also want to avoid films that come in layers and require multiple steps to apply the material.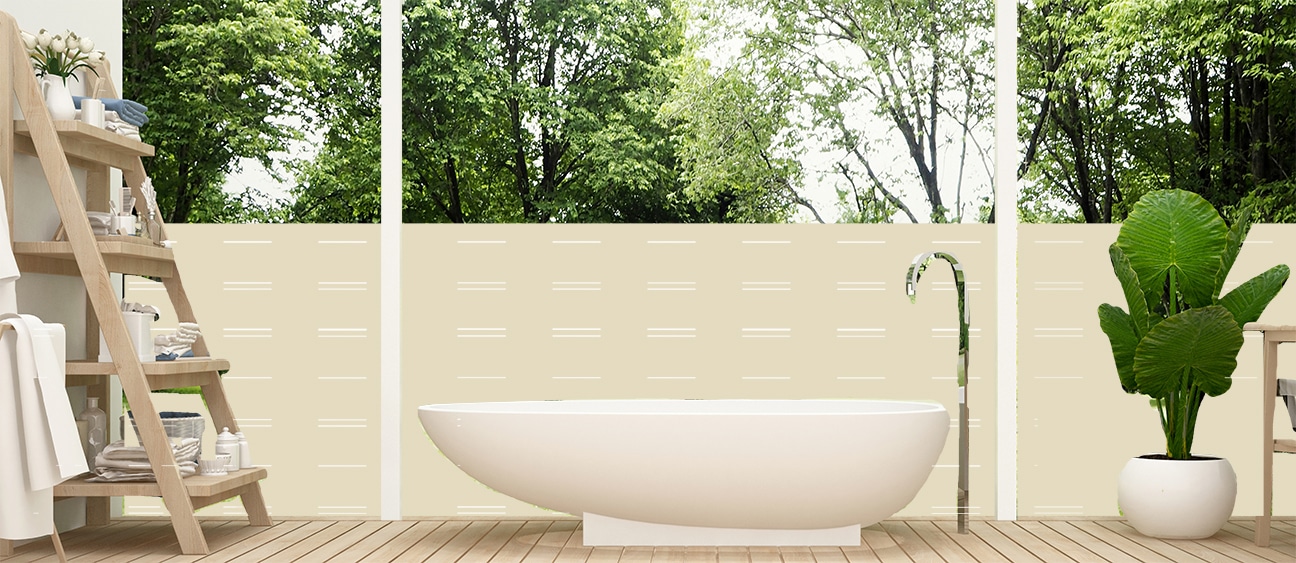 As is the case with the best textiles, window privacy film should have a nice 'hand', a suppleness coupled with a thickness that makes it easy to work with without folding, crinkling, or sticking to itself.  In other words, it should be stiffer than wrapping paper, but more malleable than the plastic coverings that protect our cell phone screens. Today's window privacy film should never be an overly glued sticky mess—you do not want your mother's contact paper.
Is it Easy to Work With?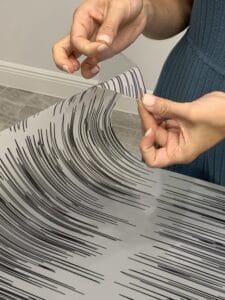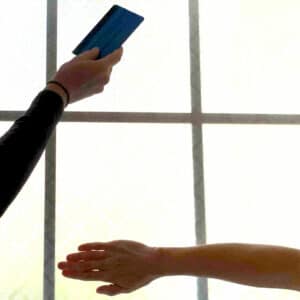 I feel confident in saying it's about the same skill level as boiling pasta. Basics, my friends, basics! If you've used scissors and a ruler you'll find it nearly as easy to install as crafter, DIYers, and wallpaper pros who can install it with one eye closed.
It's a lucky fact that because the film is applied to a clean glass surface you'll always have a hassle free medium. And the best way to ensure the film marries perfectly with your window is to always measure, measure, and measure again!
The Perfect Fit
New windows are generally very consistent and you can cut your film to an exact match for the window. But older windows can present a bit more of a challenge so be sure to take several measurements on each side. You'll want to cut your film 1/2″ to 1″ larger than the largest of the window's measurements. You can trim the leftover once it's installed using a straight-edge razor.
How do I Install It?
When it comes to the installation all you need are scissors, a pencil, a water bottle, a squeegee, and ideally a buddy.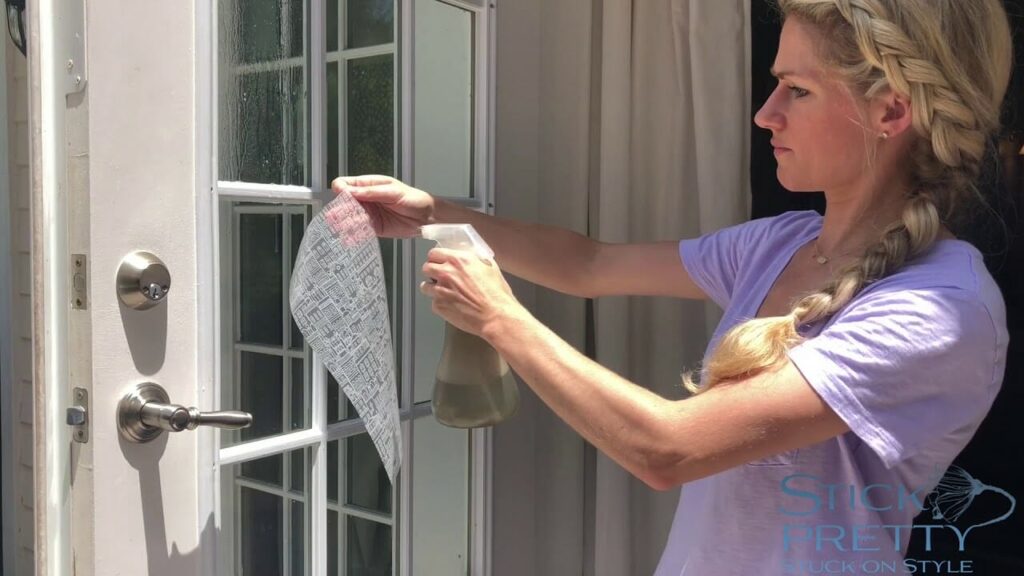 You'll lay out the film on a clean and empty table so the film can rest, helping it to flatten. After you've measured, marked and cut to size, you'll spray the entire window you're covering with water. And then you have 2 options:
If you're hanging a large piece, say something that's about the same size or larger than a large-screen tv you'll want to place the film face down on the table and remove the paper backing. Lightly spray it before carrying it to your window, something that is best done with a buddy. You'll begin the application at the top right or left corner and begin smoothing it down and outwards in small swoops with your squeegee, following with your hand to search for any air bubbles.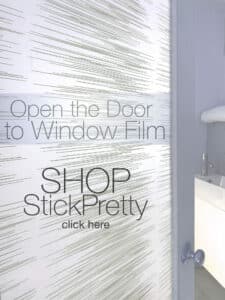 The 1-2-3 to Privacy!
If you've got a smaller piece of window privacy film you can leave the backing on as you attach that first top corner to your window. Then you'll carefully peel and spray as you make your way down the window. Regardless of your window size, your film and your window should always be damp enough to allow you to peel back the film and reapply if you've got an air pocket that's bigger than a sponge. Peel-Spray- and-Squeegee, it's the the 1-2-3 to Privacy!
Does it Look Good?
It looks great! Window privacy films have as many options as iphone cases so there is always one to match your personal style. Whether you and the decor that reflects your living style is traditional, transitional, contemporary, or vintage you'll find what you're looking for to enhance your space.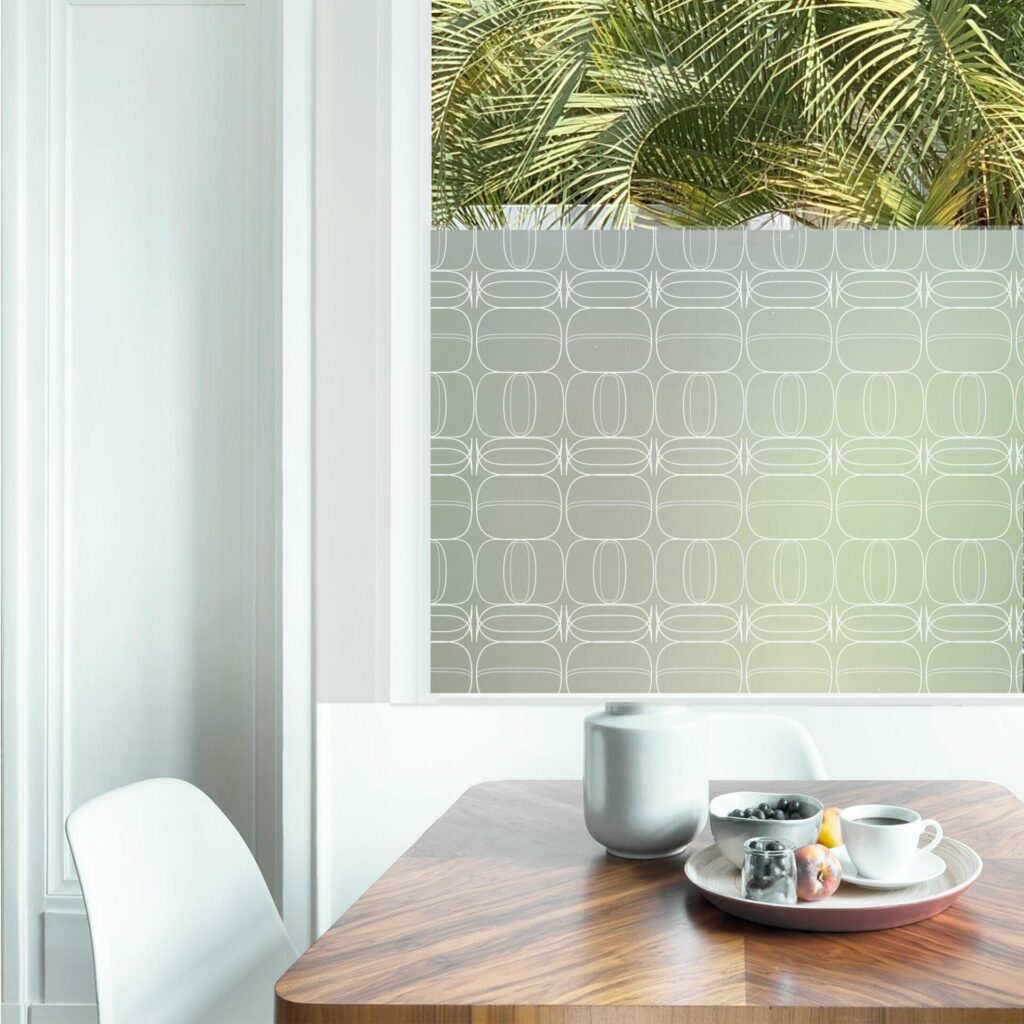 If your style is subtle and discreet then a faux frosted glass look with no pattern will suit you perfectly. If you're a mid-century lover then retro geometrics is the way to go. And if sleek, architectural lines define your interior then keep it sexy with intersecting angles. Personally, I like my Palm Trees and my florals and I have no problem finding more than enough choices to keep me wanting more.
Natural Beauty
But, as always, what makes anything truly beautiful is natural enhancement—and in the case of window film, the fact that it never blocks the sunlight is its secret to a stunning appearance. Everyone wants a room flooded with the sun's finest and you will never have to sacrifice that when using window privacy film. Curtains and blinds and shades all do their best to cover the most basic of light sources. Window film will block views and the sun's harshest rays but never, ever will it cut the light that fills your space. Arguably, its finest trait.
Is it the Right Choice for YOU:
A few questions to ask yourself: Is low maintenance living for you? Want to avoid wiping dozens of individual blinds or dry-cleaning curtains or shades? Do you give your surrounds quite a lot of attention and change things up often? Do you value versatility in your decorating choices? Do you live in a sunny place where protection from its invasive rays are part of your lifestyle? Or do you live in higher latitudes where sunlight is at a premium and a window covering should never ever block an ounce of the precious commodity? Do you have a revealing window in your bathroom that makes you feel just a little less comfortable than you'd like?
If you answered 'yes' to any of these questions then window privacy film is absolutely an investment you should consider making!
Personally, I live a casual life in a warm climate and it's the perfect answer for many of my decorating needs: it is hassle free, requiring nothing more than a quick wipe with a damp cloth to keep it pristine; I can express myself through the playful patterns I choose and change them up to suit my moods; and I can help protect myself from UVA & B rays as well as shield my textiles and pictures from fading. And I have a bathroom window that backs up directly to my back deck. It has to stay covered at all times, but it's just as essential that my bathtub remains bathed in light.
Secrets to Success: A Few Tips from the Pros
Covering only 1/2 of a window allows you to create a new view by blocking the part you don't want to see and keeping the rest of it free and clear to enjoy.
There's no better choice than privacy window film in a bathroom given its waterproof nature.
The best interiors mix and match and layer in a way that best reflect the complexities of our personalities. Privacy window film in a bathroom or bedroom window can live in perfect harmony with formal silk draperies or paper IKEA shades. There's no right or wrong when you're making the best choices to outfit your home and EVERYONE has at least one window where the view is not nearly as important as the light and privacy it provides. Make window film work for you.