33 Places in Your Home to Use Window Privacy Film and They All Look Great!
Windows For All
We all have windows… often they are as beautiful as they are useful. The countless sizes and configurations of glass panes allowing natural light and the beauty of what lies beyond to enter into our homes are among the most important features of your house. However, sometimes you would prefer to protect your eyes from the sun or block an otherwise lovely portal to the outside from nosey passersby or an unsightly view. Lucky for you, window privacy film makes for the perfect pairing with windows, like Netflix and Chill…  When you find yourself needing to improve/edit/delete what you see on the other side of your window there is simply no better product than a sheet of window privacy film.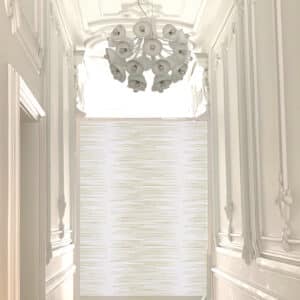 Ways to Wow
We promised 33 places in your home to put window film to work so let's get going with the first 27:  Bathrooms, kitchens, french doors, garage doors, cabinet doors, shower doors, windows in an outside garden shed, she shed or workshop. Window privacy film goes great with windows in a home office, a bedroom or living room. Sliding glass doors and shower doors, front doors and front door sidelights are equally likely candidates. Transoms, skylights and windows on interior walls between rooms are also perfect candidates for privacy window film use.
Let's keep going… Windows, old and new, in white rooms and in blue… windows can be covered where you eat your green eggs and ham and where you dance and sing like everyone is watching but you know that no one really is! Windows in your most private of private spaces can all benefit from a little extra coverage, as can the lightest, brightest, most inviting sunlit windows that just have a bit too much of a good thing shining in.
Is there Anywhere NOT to use Window Privacy Film
The only 2 places you DON'T want to use window film in your home are on the OUTSIDE of a window or on yourself!
Window Privacy Film to the Rescue
Hope we're getting the point across that any window in your home is a ready and waiting mate for the your choice of window film. We've given you 25 ideas, but there are really infinite possibilities for the versatile window film! Basically, wherever there's a visual problem to solve in your home's surroundings it's window film to the rescue! Do you overlook a driveway or busy road? Or a neighbor's untidy yard? Perhaps your neighbor's yard is charming but their windows are a bit too close for your liking? No need to fret, window privacy film is cost effective, DIY friendly, looks great and is widely available on sites like emmajeffswindowfilm and modernwindowfilm! (What more could you ask of a home improvement item?!) It installs in just a few easy steps with basic tools—spray bottle, scissors and a squeegee, or you can have a scissor-free install by choosing custom pre-cut film.
Why Window Privacy Film Is the Best Window Covering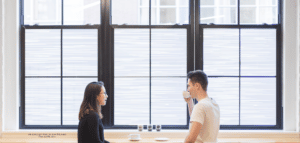 Window privacy film is the most affordable, easiest to install, and the most contemporary of all the window covering choices. It's pretty and practical and does exactly what it says it does: it gives you privacy and peace. Sure, curtains and blinds and shades do some of the same things. However, only window film installs once and you never have to touch it again. It stays in place, trouble-free. An occasional dusting is the extent of the necessary maintenance. There are no moving parts, no replacement parts, and nothing to break! It's hygienic—no mold, dirt, or discoloration will mire your pretty window film—and it's long-lasting but my favorite feature: it's waterproof!
Waterproof Wonder
Yes, what window privacy film has that no other window covering does is a slick, sleek WATERPROOF surface. Even more efficient than your favorite rain coat, window privacy film takes water in stride and never has to be washed or hung out to dry! So of all the place that window film can work, none is more useful than in the shower. There are both doors and windows in this very used but most personal of spaces and they often times need covering. Sure, there's privacy glass but that's roughly 10x to 20x more expensive than the humble window film. As for the many luscious textiles available as window coverings in every other room of the house, none of those make sense for the active and wet, wet, wet bathroom. Humidity, moisture, and water are simply not friendly to anything but window film.
Choosing the Right Window Film Material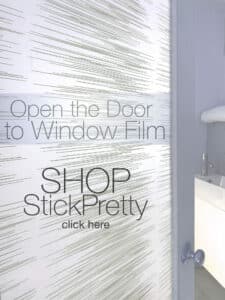 Window privacy film is a broad category so let's explore the actual material options:
Adhesive Window Film:
This is a pre-pasted, glue-backed product that requires a few spritzes of water to activate its sticking power. Adding a few drops of dishwashing liquid is a big help in easing the power of the adhesive as you apply it. Goodness knows no one enjoys contact paper and window film is NOT that product. It is a joy to install, sliding merrily across your window's surface. If you have a particularly damp area I'd recommend using this glue version. Another advantage is the fact that this type of privacy window film can be custom cut.
Cling Window Film:
Cling film comes in several varieties but it's best to stick with (a little window film humor!) the cling film that has a bit of heft to it. This type of window privacy film does not have any glue. It adheres using a nanotechnology that is pure joy and has the lasting power of its adhesive cousin. It's best to avoid the flimsy plastic wrap privacy clings that can fold into a wrinkly mess and render themselves unusable. There's a gorgeously 'thick' variety that happens to be a pvc-free eco friendly option. Because it has no plastic to relax it, it's a rigid material that does not easily curl or flap. It's a sturdy soldier ready to do what is expected of it.
Sheer Window Film:
This option is privacy 'lite'. It still gives you a line of sight to the outside but it obscures things a bit. The slight blur is an extra barrier that makes it just that much more difficult for anyone outside to see inside. The idea is that this discourages anyone from glancing a little too long or catching sight of anything too easily when they aren't necessarily peeping inside. It's a nice layer of deflection for those areas where privacy is not essential but adds comfort.
Applying Window Privacy Film
Detailed instructions are available here but let's give you a quick low down on the nuts and bolts of the install: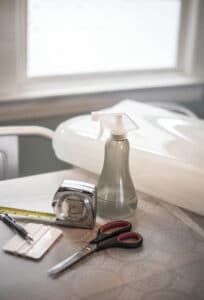 Measure, measure, and measure again! That goes for both your windows and the window film itself.
Be sure to have a trusty water bottle around, if you don't have one, just empty and wash out (really well!) an existing spray bottle. You'll also need a good pair of scissors to easily cut any of the window film materials above.

When it's time to install, make sure that both the window and the film are plenty damp. Water allows you to slide the film around to as you find exactly the right spot on the window pane.

If you're working with a piece more than 2 square feet, you'll want to pull a buddy into the project. It's a breeze with 2 people.

Always begin the install on a top corner of the window. Make sure it's perfectly square on the top and sides and then begin delicately laying the rest of the film.
As you connect the film to the window, use your squeegee (or credit card for small installs) to smooth out the air bubbles.
Don't be afraid to left the film and re-apply if it appears that too much air is in there. This is another reason to keep the film nice and damp.
When fully installed on the window you can use a straight pin to pop the last of any tiny air bubbles.
How to Use Window Privacy Film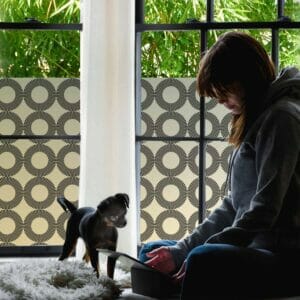 We know that window privacy film is an easy match for any of your windows, but there is more than one way to use it. For instance, a half-way up or down install allows you to block what you need without completely covering your entire sightline. Strips or shapes can be cut and placed strategically as can polka dots and stripes if you're simply looking for some fun window decor.
You can mix and match patterns throughout your home, but keeping them consistent in a single room is best. It can be layered with heavier curtains or blinds if you're in need of a full black-out affect on a window. And on sliding doors a well-placed piece running eye-level to let people know it's a door NOT a window could save more than one embarrassing crash into sparkling clean glass.
Be sure to choose a pattern that matches your style, taste, and existing surrounds. There are contemporary designs and more traditional ones and many that are somewhere in between. We enjoy the retro-looks—the highly stylized graphics that look right at home with Danish-designed furniture and pops of bright color. Because window privacy film is a 2-dimensional element it should be thought of like a fun wallpaper. Don't shy away from picking exactly the look you want—it's not an intrusive visual and it should only make you happy when you see it. And there's always the pattern-free frosted look—it works absolutely anywhere, no fuss no muss.
Another 6 Ideas, Just in Case You're Still Wondering Where to Use Window Film
While the glass portals of your home are the most likely place to use your privacy window film, they are by no means the only spot it can be enjoyed. Glass topped tables, mirrors, and objects such as vases and glass jars are well suited to a little decorative wrap. I've seen glass desks, side tables and dining tables covered for years in privacy window film doubling as a permanent tablecloth. The materials can be applied to these decorative glass surfaces just as easily as they can be to the windows of your home. With a little thought you can probably think of another 33 ways to use the work horse of a material. Hmmm… Christmas ornaments, table place cards, kitchen labels…