How to Choose the Best Window Privacy Film
Why Use a Window Privacy Film?
Your home is your safe space where you can relax and spend time with your family. The last thing you want is peeping toms and nosy neighbors intruding on your space. So what are your options? You're not limited to hanging dusty curtains or blinds that shut out all the light. Luckily, window privacy film allows you light, privacy, and beautiful design for your home.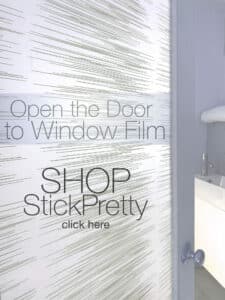 What to Consider When Buying
Wondering how to pick the best frosted window film? Read on to learn about the best options for your design tastes and needs.
But window films do more than that. A window privacy film is made of thin layers of polyester. The thin polyester layers help protect your home from UV rays.
Window films also provide temperature control. Between 25-30% of residential heating and cooling usage stems from improperly sealed windows. That's a lot of your money going out the window to pay energy bills!
A good quality privacy window film will be durable. The adhesive will stick well to your window. The design won't chip or fade and the film stays in place.
This means it's easy to clean your windows, unlike fussy curtains and blinds. Not only that, but you'll know your home is safe from nosy neighbors and sun damage without blocking light.
Express Yourself
With window film, your privacy and expressing yourself aren't mutually exclusive! When you're looking for the best window film, think about your wishes first. Are you focused primarily on privacy or do you only want to play with design?
Both privacy window film and decorative window film provide a level of privacy. But privacy window film will provide more opaque coverage. Both decorative and privacy films come in fun designs.
Privacy and protection are important. So is saving money on your energy bills. But your window film must look good too.
Science points to evidence that how we decorate our home impacts our happiness. Decorating your windows to match your home may make your home a more joyful space for you. You don't need to compromise your sense of safety for a drab or boring window film.
You can choose from a variety of designs and types of window film. These range from frosted, one-way mirrors, and tinted.
Frosted and tinted films can be great options when you want filtered daytime light. You can also choose mirrored films that let in light but reflect outward. These are great options for bathrooms and showers, where you may want even more privacy.
You'll also find that there are lots of design options like florals, stripes, and checkers. You can be sure to find the right film to match your home decor.
The Best Window Privacy Film for Your Home
You can find the best window film for you that's both useful and stylish. Whatever your style, there are window film options for you.
You can have your privacy and save on energy bills. And you'll be sure there's a design and type of film that matches your unique style and home.
Interested in finding the perfect window film for your windows? Take a look at our collection of decorative window films for privacy.
StickPretty specializes in peel-and-stick solutions for a more livable, lovable home. Our window privacy film ensures you will never be 'lights-out' with a drawn window shade or curtains. We celebrate the simple pleasure of turning your home into the private haven we all deserve by installing a simple piece of decorative window film. It is as easy as it sounds and we hope you'll make the choice made by so many before you to make your privacy light and bright and pretty. Thank you for reading! Please reach out to us at [email protected] if we can answer any questions or assist in an order.