Top 9 Most Common Privacy Window Film Questions Asked and Answered
Why Should You Love Window Privacy Film?
Light, Bright, DIY Delight
It's easy to install, affordable, low maintenance, and is the best at doing what traditional window treatments do—creating privacy and beauty in your home. With one roll of privacy window film you can transform any window and the room it occupies by keeping OUT prying eyes and maintaining beloved natural light. The best films have white ink designs that will not fade, but will protect both you and your furnishings from the sun's harsh UV rays. Heat will be deterred and energy bills will go down. Used by homeowners and renters, suburbanites, and city dwellers—there's a place in nearly every home to install a pretty piece of privacy.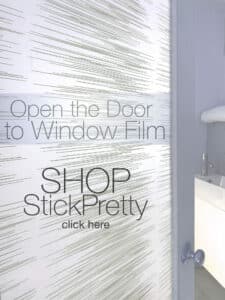 Welcome Window Privacy Film and Ditch Those Fussy Curtains, Blinds, & Shades &
After the 1-time application of your privacy window film will never need to think about it again! You do not have to open or close it at the start and end of the day, dry-clean it, or install cumbersome hardware from which to hang it. You can take your own measurements and never need the help of a professional. It's the ultimate DIY decorating project—start to finish!
For the price of a plastic water bottle and squeegee purchased on Amazon you can achieve the look of a frosted glass window or expensive curtains (see price comparison chart below) with window privacy film. To clean the film you need only a non-abrasive spray cleaner and a soft cloth and it will last for years, looking brand new.
An advantage no other window covering has is that you do not have to cover an entire window—only the bits where the view should be blocked or onlookers kept from seeing in. So you can cover bottom or top half of a window and leave the rest unobstructed for your viewing pleasure.
How Much Does Privacy Window Film Cost?
Big Value Affordability
Because it's a DIY product you're looking at hundreds of dollars of savings by not involving interior design professionals or purchasing hardware required by conventional window treatments. As illustrated below, the material costs alone make it worth the switch to privacy window film:
Window Film costs $7/sq foot
Custom Curtain costs $30-$40/sq foot
Custom Blinds: $25-$35/sq ft
Roman shades: $20-$40/sq ft
Frosted Glass: $150-$175/sq ft (By far your best savings! Frosted window film brings the best value in the bathroom.)
How Do I Install It?
Easy-On DIY Installation
Scissors, a measuring tape, a water bottle, and squeegee are all you need to install window film. It cuts like a dream and requires nothing more than spritzing the material and glass with water, and placing the film on the window to complete installation. There is no hardware to hold it in place, no breakable parts, and can be done by one or two people in the time it takes to throw together a weekday meal.
Important installation tips to remember: Clean your work surface and windows before you begin, wear clothes without extra fuzz and lint when handling the film. Consider leaving the film out 24 hours before application to let it 'rest' if you purchased it in a roll. It always helps to have a buddy to help you place the film, but it's not necessary. If you have older windows that might not be plum, it's a good idea to leave an extra ½" -1" that can be trimmed away after installation using a straight-edged razor.
Check out our animated installation video:
Where Can I Install Window Privacy Film?
Anywhere in Any Room:
There are no limits as to where privacy window film can be installed. The most commons uses are front door sidelights, bedrooms, and, yes, bathrooms (see 'Waterproof Wonder' below). It is also a popular choice for interior doors where light and privacy are needed in equal measure. Window film also makes a lovely addition to French doors and glass-faced cabinets in kitchens and living rooms. Urban dwellers will often use it on every perimeter window to create intimate environments and preserve much needed light. In any home there's no limit to the possibilities—some homeowners even use it for craft projects, including covering glass top tables, mirrors, and vases.
Waterproof Wonder!
Perhaps the #1 selling point and reason this is the best option on the market is for its use in bathrooms. Everyone wants privacy when they step into a bath or shower, but it's tricky finding a good way to do it. Moisture creates wear and tear on most material options, but a piece of privacy window film on a bathroom window will not be brought down my mold, mildew, or excess humidity. It can also be used on plain glass shower doors, saving you the expense of purchasing expensive frosted glass.
How Do I Choose the Right Window Film?
Material Matters: Types of Window Film
Available for purchase in box stores, Amazon, Etsy shops, and independent retails, there is a wide range of options. Here's what you need to know:
The highest quality window films are translucent sheets of material sold in rolls that are easily applied with water. They are often backed with a water-activated glue and have a delicate frosted appearance. They can be purchased in standard sizes or as custom-cut sheets. Avoid brightly colored window films that require multi-layer applications or are thin, flimsy pieces of plastic similar to plastic wraps that do not bond to a window with a water application
These types of privacy window film are vulnerable to weather changes and tend to fall off in extreme heat or cold. You never want to use anything requiring an adhesive that you apply yourself, like a wallpaper application. Instructions vary, so be sure they are always included.
Adhesive Privacy Window Film
As the original form of window film it's the most common choice among buyers. The staying-power is that of outdoor signage and will never let you down. Also, it is not a quick-stick product like contact paper—once the adhesive is activated with soap and water during installation you have plenty of time to slide it around on your window until you achieve perfect placement on your window.
PVC-free Cling Privacy Window Film
Growing every day in popularity is the eco friendly privacy window film option. A pvc-free window film does not contain the poly-vinyl chlorine bleach that the standard window films do, thereby making it a healthier choice for you, your family, and the planet. It does not contain adhesives but will still create a bond when spritzed with water. (Again, do not buy window clings that simply grab hold of glass surfaces with no adherent.)
Sheer Window Film
A 'softer' option allowing you to maintain your view while creating a sense of privacy is sheer window film. Use privacy window film to replace old-fashioned sheers that require machine washing and replacement due to sun exposure every few years. If you choose Emma Jeffs' very sophisticated Flowers & Lace window film design, which is influenced by the many lacy sheer curtains commonly found in the designer's hometown of London, you might even trick house guests into thinking you have an actual textile adorning your glass.
Decorative Clear Window Film
If a pattern covers more than 75% of a film's surface then even if the film itself is clear it will provide a good amount of coverage to keep your home concealed. Sometimes you'll want to see the green of the trees and the color in your garden, so having a clear film can be a great idea.
Get the Look you Love
One of the greatest advantages of privacy window film are the many designs to choose from. Not too many years ago, the market was confined to faux, stained glass and leafy tree designs. But now you can choose from contemporary mod looks (mid-century, retro squares) to illustrative artistic designs (little city, palm trees), to simple styles that work with any style (frosted, Willow). A simple, plainly frosted window film is also a popular and smart choice.
The most important thing to remember is that a pattern should reflect your personal style. Buy what you like! And then consider the size window you will be covering. A smaller repeat can go anywhere, while a larger pattern (repeats that are 4" and larger) work well on larger surface areas, where they won't be broken up. That said, it can also be fun to use a large pattern on a smaller window, such as a sidelight, where a large repeat will boldly fill the space.
How Much Window Film Do I Buy?
Most brands sell their privacy window film in standard sizes, so be sure to buy one large enough to cover your windows with extra wiggle room. Before purchasing, measure your window and then buy a size that's at least a few inches more film than you need in every direction.
In some cases your window will be considerably smaller than even the smallest of available sizes, but even with the 'waste' it's most likely still your most cost effective window covering option. Set the extra bits aside and use it for a fun project, covering one of the surfaces mentioned earlier (See 'Where Do I Install It).
Cut to Fit
Custom sizing is a great option offered by boutique privacy window film seller StickPretty.com. They will take your measurements and pre-cut a sheet for you. Pricing varies so be sure to reach out and ask how much your project will cost: [email protected]. They will also print custom colors.
Will I Need to Pattern Match?
Windows are considerably smaller surfaces than walls and most of the time you will not need to overlap pieces to pattern match. If you want the design to exactly the same in multiple windows the you'll need to purchase an extra 20% of material. If you have a single continuous surface more than 4 feet both horizontally and vertically that will require multiple pieces of film, you might want to consider hiring a professional wallpaper hanger who will have no problem creating a seamless look for you.
Can I Remove It?
Easy On Easy Off
Removal is a cinch. When you want to take it off, simply pick away at a corner until it loosens and then begin pulling. If you find it is reluctant to pull away then heat it with a blow dryer. If a bit of adhesive remains on the surface, common mineral spirits will wipe it away. This makes window film a natural choice for homeowners as well as renters who want to cover their surfaces but not commit to holes and damaged walls.
How Does It Look at Night?
From Day to Night: How light affects Window Film
Your privacy window film embraces light and will look beautiful any time of day or night. While the sun is up you'll enjoy the a shimmery appearance of frosted glass. At night your design will truly pop with the backdrop of darkness. Be aware that in the evening hours, the brighter your lights in side and the closer you move to a film-covered window, the more pronounced your shape will become to onlookers on the outside.
Keep in mind that no one should ever be able to see any details of objects or people in your home, no matter the time of day or night, no matter how near they or you are to a window. Objects more than 5 feet from the window should never be discernible, even their shadows.